Our team of passionate Painters can help you turn your residential, commercial or industrial properties into masterpieces.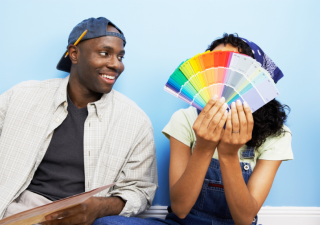 Services We Offer.
With over 30 years experience, our Painters will help you add value and joy to your home.
Paint internal and external dwellings
Wash and paint roofs
Specialist paint and plaster effects
Wooden window and door treatments
Waterproofing top of parapet and boundary walls
Repair damaged plaster
Projects and Home Makeovers
Paint and Colour Consultations

Competitive Pricing.
Our quality service and transparent pricing will help you manage your painting budget.
Rates:
Free Quotes –

Book a Call Out

R45.00 – R65.00 per sqm

Standard Paint Techniques and Materials

R65.00 – R95.00 per sqm

Specialist Paint Techniques and Materials
Rates include labour, paint and painting materials
Rates exclude VAT
Rates are subject to the amount of paint preparation required, type of paint, coating or technique chosen.
Tel: 072 347 3365